Genomics team share a pint of science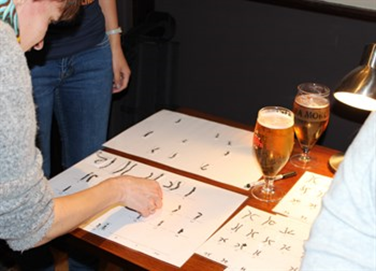 MFT's Manchester Centre for Genomic Medicine featured in the Pint of Science Festival, hosting the sell-out event 'Your Genome, Your Health'. The festival aims to bring scientific topics to the general public in an accessible format, holding talks in pubs across the UK.
The event, held at The Old Monkey on Portland Street, included talks from Clinical Scientist Dr George Burghel and Professor Bill Newman who looked at what happens in the centre's laboratory: how DNA is tested, interpreted and the results delivered to patients.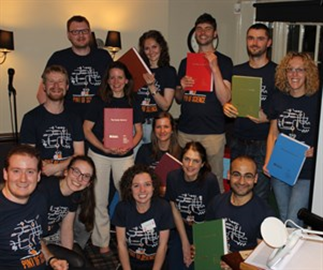 Clinical Scientist, Dr George Burghel spoke about how teams of scientists, technologists and bioinfomaticians work to provide a comprehensive and increasingly personalised diagnostic service for patients using techniques such as DNA microarray and whole exome sequencing.
Professor Bill Newman also spoke about the 100,000 genomes project and how genomic information is becoming an important part of mainstream medicine, helping clinicians provide better diagnosis and treatment for their patients.
Guests also saw a full print-out of the human genome, one of only two copies in the UK, kindly loaned by Leicester University for the event. The print out, which comprises 130 volumes, demonstrates just how much information it takes to make up one human body and it's believed the volumes would take up to 95 years to read.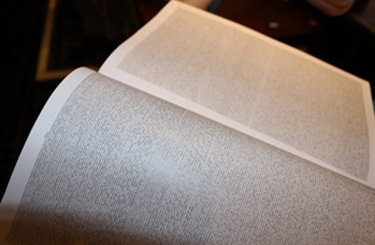 Dr George Burghel said:
Thanks to the University of Leicester we had the printed copy of the genome, which was a brilliant way of demonstrating the complexity and enormity of our genome. The event was an amazing opportunity for our team to engage with the public about the recent advances in genomics and some of the exciting work that we do.
One visitor commented at the end of the session:
As someone with very little knowledge of the subject area, I was delighted at how accessible this complex subject was made. The interactive activities brought the theories to life and the human genome printed in 130 book volumes was impressive. I left informed and inspired.